Here's what you need to know this morning: Thursday, Oct. 1
Posted on 1 October 2020 at 6:26am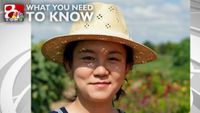 The Columbia Police Department concluded their part of the investigation in regard to the Mengqi Ji case, a Columbia mother who was first reported missing nearly a year ago.
According to CPD Public Information Officer Jeff Pitts, CPD partnered with multiple local, county, state and federal agencies during the course of the investigation.
Click here for a full timeline of the case.
The Columbia/Boone County Health Department released guidelines for trick or treating on Halloween.
There are numerous activities listed in the document that was shared on Twitter, which can be found here.
The activities are broken down into three categories based on COVID-19 safety levels.
The "Not So Scary" activities are the safest, such as a decorating your house and front lawn, pumpkin carving and Zoom parties. Another idea listed is "Booing" your neighbor, which is where you ding-dong-ditch your neighbor, but leave behind a Halloween basket with candy on their porch.
The next level of activities are "Somewhat Scary" and have some risks. These activities include pre-wrapped treats for grab-and-go trick or treating, going to a pumpkin patch or an outdoor candy hunt.
The final level of activities are "Very Scary" and considered the most risky during COVID-19. Theses activities include classic trick or treating, trunk or treating, parties and haunted houses.
A bicyclist was rushed to the hospital, Wednesday, after a driver hit him and ran from the scene.
Sara Diedrich, a spokesperson with MUPD, said the incident happened at the corner of Virginia Avenue and Rollins Street around 6 p.m.
The driver, a 19-year-old man, was later arrested for leaving the scene.
Kansas City leaders are introducing a new four-part plan they hope will help the city reduce its burgeoning crime rate.
Mayor Quinton Lucas introduced Reform Project KC during a news conference Wednesday that was attended by dozens of public officials and community organizers.
The four "pillars" of the program are prevention, intervention, enforcement and administrative reforms.
Tuesday's Presidential debate was different than years past and not just because there was no crowd in attendance.
It was chaotic and hard to follow, as both candidates talked over each other and fought for speaking time.
For some residents in Jefferson City, the debate didn't do much in helping decide who should get their vote.
Today's First Alert Weather Forecast
Mostly sunny and breezy. Morning temps will be in the middle 40s wind chills will range from 39-43 degrees.
Winds will increase from the northwest by late morning to around 15 to 20 mph, gusting to 30 mph in the afternoon. Highs will be around 63 today.
Clear tonight. Lows tonight in the lower 40s. Some locations may drop in the upper 30s. Some valleys may develop patchy frost overnight.
Wind chills are in the 30s this morning. BRRR pic.twitter.com/1CfUOjI8A0

— Tim Schmidt (@komuTim) October 1, 2020
Most Popular Recent Stories